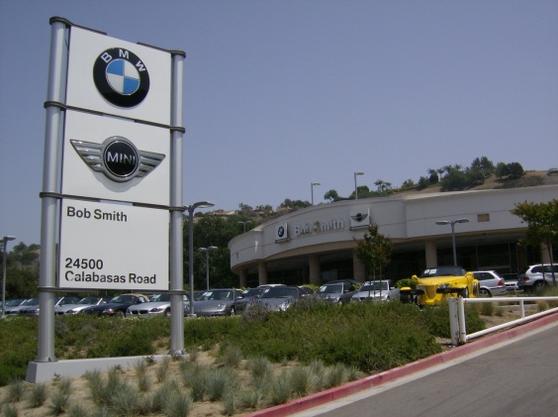 The following information is my personal experience with Bob Smith BMW. Also included is the experiences of others. Your experience may vary but please consider the following information before giving this dealership your business.
Bob Smith BMW
Don't be fooled by the seemingly friendly sales personnel, the clean showroom, or the millions of dollars of fine BMWs that scatter the premises. All this happiness stops the moment you sign the contract. Bob Smith BMW advertises on local radio stations, TV, and internet ads as being the fastest growing, most successful BMW dealership in Southern California.
The following is an excerpt of my post on
http://www.complaints.com/2008/february/20/Bob_Smith_BMW__unprofessional_and_lying_service_d_161876.htm
I took a friend's vehicle in for service at this dealership (a BMW 545i, $72,000) and received a loaner car in return, a BMW 3-Series. I have a BMW from this dealership as well. I had an accident with the loaner car, which my insurance carrier covered, less my $1,000 policy deductible. The dealership was notified of the accident where they informed me all I had to do was pay them the $1,000 deductible. The person who told me this was John Brison. He said there is no rush to pay the $1,000 and to pay it when I can. It took me a while to gather the funds to pay but I eventually made a payment plan with Service Manager Brian Howard. One day I took my own BMW in for service where they refused to release the vehicle (even though my vehicle had nothing to do with the $1,000 I owed them) at that time, after much arguing, they released the vehicle to me under the condition I pay them $250 a month to correct the $1,000 situation I owed them. I agreed to this payment plan as it was better than coming up with the $1,000 all at once. I made the first payment, then I receive a call from LA county dispatch accusing me of check fraud. Apparently BMW tried to debit my card for $3,000+ wherein it was declined for insufficient funds. After explanation to LA county Sheriff dispatch, barely NOT getting arrested, the lady symphathized with me and contacted BOB Smith BMW and she was convinced I wasn't trying to commit any wrongdoing and rectified the situation by dropping me off their "fraud list". Bob Smith's John Brison, not knowing what Howard Smith (Service Mamager) arranged with me (the $250/mo payment plan) referred me to collections, not only for the $1,000, but $3,250 in additional loss-of-use charges. Charges I never heard about until an attorney for the collections company called me.
Obviously, in the case of Bob Smith BMW, they are very unorganized--the left hand not knowing what the right hand is doing. I'll guarantee you that other customers who are involved in accidents did not incur loss-of-use charges. I dare Bob Smith to prove otherwise.
Business Manager Girard (don't know hislast name) even admitted to me that this referral to collections should not have happened without his consent--consent John Brison did NOT have.
Not only that, the Service Dept. at Bob Smith is unattentive, unprofessional, and needless to say, disorganized. I have waited around for 45-60 minutes just for them to tell me my car is ready--on several occasions. My car was also scratched up by their detailing technicians who overbuffed the paint on my 3-Series and left it swirly. They fixed the problem (not even to my satisfaction still) after 2 more attempts and hours of waiting. Without even an apology.
Stay away from Bob Smith BMW. They're rude, unprofessional, and break their professionalism with you as soon as you sign on the dotted line to purchase their vehicles.
The following are a quick list I've compiled in five minutes which demonstrate others' negative experience (recent too) with Bob Smith BMW.
BimmerForums--Stay away from Bob Smith BMW in Calabasas
ConsumerAffairs.com--Complaints regarding Bob Smith BMW
E46Fanatics.com--Terrible experience with Bob Smith BMW
ComplaintsBoard.com--Bob Smith BMW
**New** Another Bob Smith complaint thread
Alternative BMW Dealerships:
South Bay BMW
Center BMW
Valencia BMW